Scenario: Global variables
planned
Would be nice to have the ability to define global variable for multiple usage. For example: a SFTP patch to a specific folder which is used in multiple scenarios.
-------------------------
Click on the "Data stores" menu item in the left vertical menu.
Click on the "Add data store" button in the top right corner.
Setup a Data store and the underlying Data structure (see the 1st screenshot).
Click on the "Browse" button of the newly created Data structure.
Add a variable to the Data store (see the 2nd screenshot).
In your scenario, use the "Data store > Get a record" module to obtain the value of the variable (see the 3rd screenshot).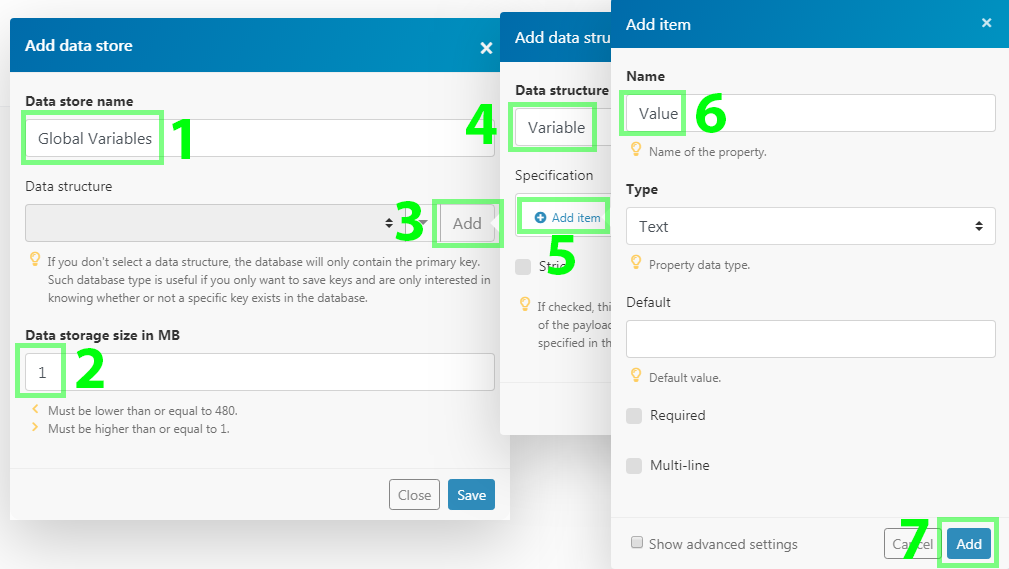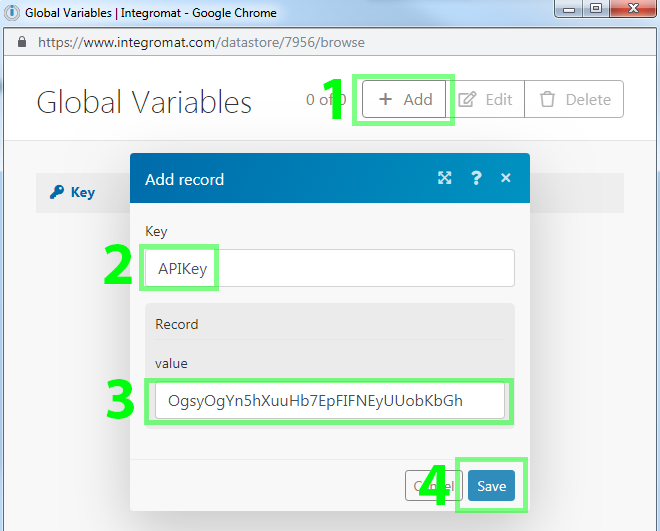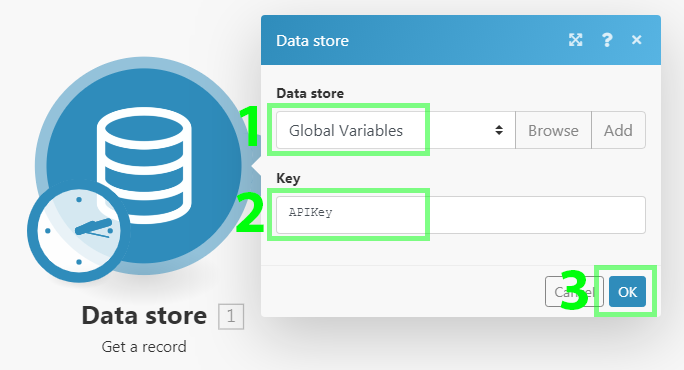 P
marked this post as
planned
Merged in a post:
Create/Edit/Update/Delete "Snipplets"
A "snipplet" is a very small piece of data, likely no more than 1Kb, that can be used anywhere in any scenario simply by referencing it. For example, a snipplet could be a unique email signature you "snip" into an email. Or it could be some text you want to include (or save) up to the 1Kb. But the idea is that we shouldn't have to access the datastore or an external service to get the "snip" we want to use. Store it, forget it, use it anywhere.
Merged in a post:
Set of Constants for scenarios (production, testing, etc)
It would be great if we can define custom constants for each scenarios, like variables but organized by custom criteria.
Example:
Production Constants
Testing Constants
So one can:
Easily store constants for each scenario and rotate them when we are developing or testing or leaving it running for production
Merged in a post:
Save Emails like Connections - saves typing it all the time
Enrizen Administrator (Lydia Sharpin)
I have to type my name into every email warning I set up. I'd really just rather set up a central email with an alias on Integromat and just reference that, so if a staff member leaves we can just change it in once place and not every scenario.
Please upvote this, it would be so easy to do!